---
---
---
---
---
---
---
---
---
---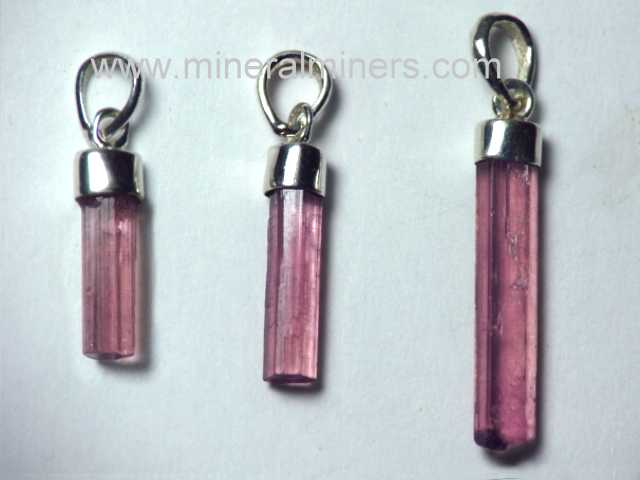 Code
: trbj301_pink-tourmaline-jewelry
Natural pink tourmaline crystal pendants in 3 sizes
Set with natural
pink tourmaline crystals
found in Minas Gerais, Brazil

These natural pink tourmaline crystal pendants are set in 925 sterling silver caps with natural pink tourmaline crystals! These genuine pink tourmaline crystal sections are completely natural and they are available in three crystal lengths: 3/8 inch (10mm long), 1/2 inch (13mm long), and 3/4 inch long (19mm) - please see below to order. The pink tourmalines are transparent with faint natural inclusions and 100%
natural
color; these pink tourmaline crystal pendants are unheated and untreated. These natural pink tourmaline crystal pendants match very nicely with our handcrafted pink tourmaline crystal earrings!
Please see below to order.

---
---
---
---
---
---
---
---
---
---
---
---
---
---
---
---
---
---
---
---
---
---
---
---
---
---
---
---
---
Our Pink Tourmaline Necklaces all have natural color pink tourmaline beads & gems!
See also our blue tourmaline jewelry.
Did you know that pink tourmaline necklaces are a traditional birthstone jewelry gift choice for birthdays in the month of October? We have a large variety of tourmaline necklace styles available with all natural color tourmaline gemstones in many other colors including blue, green, pink and sunset color tourmalines.
Be sure to see all of our genuine tourmaline Jewelry!
---
See also our large selection of other genuine pink tourmaline jewelry designs.
We have all natural pink tourmaline gemstones set into handcrafted pink tourmaline necklaces & pendants in solid 14k gold and also in pure 925 sterling silver. We have a large selection as well of pink tourmaline necklaces & pendants in unusual shapes and sizes that are set in unique styles.
Our pink tourmaline rings are all unique one-of-a-kind designs.
We have pink tourmaline earrings in both leverbacks and stud earrings available in a wide selection of pink tourmaline gemstone sizes with shades of natural color pink ranging from light pinks to deep purple-pink tourmaline gems.
Our genuine pink tourmaline earrings are available with a variety of pink tourmaline gemstone shapes including rounds, ovals, pear shapes, and rectangular shaped pink tourmaline gems.
Pink Tourmaline Necklaces
Each of our pink tourmaline necklaces is set with natural color untreated pink tourmaline gemstones that were mined in Brazil, Africa, or Madagascar. Here at mineralminers.com, we do not have any lab-created pink tourmalines, and we do not have any diffusion treated or heat treated pink tourmalines! We specialize in genuine natural color pink tourmaline necklaces that were faceted from natural pink tourmaline crystals. Our pink tourmaline necklaces are set in solid 14k gold, and we also have 925 sterling silver pink tourmaline necklace designs. We have natural pink tourmaline necklaces available in beautiful shades of light pink to dark pink tourmaline with all natural colors including some amazing sunset tourmaline necklaces! We have a selection of large tourmaline gem sizes and shapes available as well in fine tourmaline 14k gold pendants.
Pink Tourmaline Necklaces
Pink Tourmaline Necklaces in 14k Gold

Light Pink Tourmaline Necklaces
Deep Pink Tourmaline Necklaces
Sunset Tourmaline Necklaces
Rubellite Tourmaline Rings
Sterling Silver Pink Tourmaline Necklaces

Pink Tourmaline Bead Necklaces
Sunset Tourmaline Necklaces
Cabochon Pink Tourmaline Necklaces
Faceted Pink Tourmaline Gemstone Necklaces
Pink Tourmaline Crystal Necklaces
See also our selection of natural color pink tourmaline crystals.
Black Tourmaline
See our page displaying only black tourmaline products.
We have a variety of genuine black tourmaline products available including handcrafted jewelry items and also black tourmaline mineral specimens & crystals.
Be sure to see our larger size black tourmaline decorator mineral specimens with black tourmaline crystals embedded in quartz matrix!
---
Pink Tourmaline Information
Information about genuine pink Tourmaline and its history, physical properties, chemistry, occurance, and metaphysical uses is displayed on our tourmaline information page.
To see more natural pink tourmaline photos, just select another linked image displayed below.
To see photos of another mineral variety, select any link in our Mineral Inventory & Factsheet Index.



Pink Tourmaline Necklaces & other Genuine Pink Tourmaline Products in our Online Store
Each of our rubellite tourmaline jewelry designs is a hand crafted design. We have many different kinds of natural color pink tourmaline & rubellite tourmaline jewelry designs available:
---
Pink Tourmaline Store
We do have additional pink tourmalines in stock.
Some of our rare quality pink tourmaline crystals also have gem-grade areas inside and can be used as superior grade pink tourmaline gem faceting rough.
Be sure to let us know if you have any natural pink tourmaline requests.
---
Pink Tourmaline Necklaces
Would you like us to inform you when we add on this page more natural color pink tourmaline bead necklaces and pink tourmaline necklaces in 14k gold in both white gold and yellow gold?
We do have additional inventory of natural color pink tourmaline necklaces in stock, so be sure to let us know if you have any pink tourmaline necklace special requests.
Be sure to see all of our genuine tourmaline products!
---
Necklaces
We have been mining for aquamarine, topaz, kunzite, tourmaline & other gems for more than 30 years.
Natural Gemstone Necklaces
We have a large variety of natural gemstone necklaces available with many different kinds of natural gemstones. Our natural color aquamarine necklaces are available with many different aquamarine gemstone shapes and sizes to choose from.
We also have pages displaying natural color amethyst necklaces & lapis lazuli necklaces, and genuine citrine necklaces, as well as our natural opal necklaces. We have other natural opal jewelry items including natural Australian boulder opal necklaces and natural Ethiopian opal necklaces. See our selection of genuine ruby necklaces set with natural rubies mined in Mozambique. We have a large selection of genuine freshwater pearl jewelry designs and pearl necklaces as well, and we have a large selection of sizes available in high quality sugilite necklaces!
Our genuine blue sapphire necklaces have authentic blue sapphire gems and beads handcrafted from natural sapphires mined in India and Sri Lanka.
Be sure to see our natural gemstone jewelry pages displaying aquamarine jewelry including genuine aquamarine necklaces in both 14k gold and in sterling silver. We also have genuine emerald necklaces, garnet necklaces, peridot necklaces and moonstone necklaces, all set with 100% natural gemstones. We have genuine sapphire necklaces available with real sapphires in many of the natural sapphire colors including genuine blue sapphire necklaces. Be sure to also see genuine tanzanite necklaces set in solid gold. We have a large variety of genuine tourmaline necklaces in beautiful all natural shades of green, pink, and blue tourmaline.
See our page with links to natural gemstone necklaces of all gem varieties!
Follow any linked image below for a selection of superior quality genuine gemstone necklaces.

To see 14k gold & sterling silver necklaces and other birthstone jewelry gifts for a particular mineral variety,
just select one of these links, or you can visit our alphabetical Jewelry Index.