Additional Bi-color and
Multi-color Tourmaline
Items in our Online Store
---
The
mineralminers.com
®
Virtual Gallery - Collector Quality
Bi Color Tourmaline Lapidary Rough
At
Miners'
Prices!
TM
Try our
satisfaction guarantee
- compare our prices and our quality.
Bi-color and Multi-color Tourmaline Lapidary Rough
Try our natural
Multi Color Tourmaline Lapidary Rough
Satisfaction Guarantee
- compare our prices and our superior quality.
Click on any natural color tourmaline rough image below to enlarge it.
---
Code
: tgrm241x
Natural color green tourmaline crystals available in several sizes (please see below)
Genuine green tourmaline crystals mined at Itinga, Brazil

These naturally terminated dark green tourmaline crystals have
100% natural color
! They appear almost black, however they actually have a beautiful deep green body color with dark brown naturally terminated tips when placed against a light as shown. They are ideal for making cabochon gems or lightly included faceted gems, and for small carvings as well. They also make very nice
natural
color green tourmaline specimens for mineral collections and for metaphysical use. We have them available in several approximate sizes.
Please see below to place an order.
---
---
---
---
---
---
---
---
---
---
---
---
---
---
---
---
---
---
---
---
---
---
---
---
---
---
---
---
---
---
---
---
Our Bi-color Tourmaline Rough & Multi-color Tourmaline Lapidary Rough Specimens are all 100% Natural Color!

Natural Multi-color Tourmalines
We do have additional multi-color tourmalines in stock.
Some of our rare quality multi-color tourmaline mineral specimens and crystals also have gem-grade areas inside and can be used as superior grade multi-color tourmaline lapidary rough.
Be sure to let us know if you have any natural multi-color tourmaline requests.
See also our pages displaying natural color tourmaline crystals of all colors including blue, green, and pink! Be sure to see our selection of natural bi-color tourmaline jewelry, our natural pink tourmaline rough and pink tourmaline gemstones. We also have natural blue tourmaline crystals, black tourmaline crystals, and green tourmaline crystals. Be sure to see our selection of natural green tourmaline gemstones.
We have a large variety of natural tourmaline items in stock including tourmaline lapidary grade rough, tourmaline crystals, gemstones, & mineral specimens, and a hand-picked selection of natural color tourmaline jewelry items.
Our tourmaline bead necklaces are strung with natural color tourmalines ranging from semi-transparent to eye clean in a wonderful variety of tourmaline bead shapes, colors and sizes! Our tourmaline pendants are set in solid 14k gold designs. We also have pure 925 sterling silver tourmaline jewelry in pendants, rings, necklaces and bracelets.
Some of our tourmaline crystals have lapidary grade areas inside and can be handcrafted into beautiful tourmaline gemstones!
See the links below for a selection of superior quality tourmaline products.
Natural Tourmaline Products For Sale in our Store

---
Black Tourmaline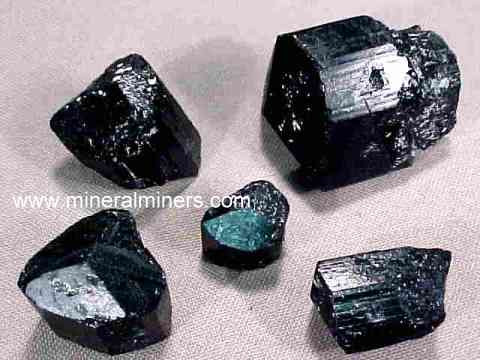 See our page displaying only black tourmaline products.
We have a variety of genuine black tourmaline products available including handcrafted jewelry items and also black tourmaline mineral specimens & crystals.
Be sure to see our larger size black tourmaline decorator specimens with black tourmaline crystals embedded in quartz matrix!
---
Tourmaline Information
Information about genuine Tourmaline and its history, physical properties, chemistry, occurance, and metaphysical uses is displayed on our tourmaline information page.
To see more tourmaline photos, just select another linked image displayed below.
To see photos of another mineral variety, select any item category link in our Mineral Inventory & Factsheet Index.



Multi Color Tourmaline Rough & Other Multi-color Tourmaline Products in our Online Store
---
We have been mining for aquamarine, citrine, kunzite, topaz, tourmaline and other gems for more than 25 years, and we have a very large variety of natural lapidary rough available in many different minerals like aquamarine rough, and peridot rough.
See our page with links to natural lapidary rough of all mineral varieties!

Tourmaline Lapidary Grade Rough & Crystals
Each of our tourmaline crystals is completely natural - just the way it was found in the earth.
Some of our tourmaline crystals are still partially embedded in their original host rock, making very interesting matrix mineral specimens! We have lapidary grade crystals available for several varieties of natural color tourmaline:
---

Multi Color Tourmaline Store
We do have more lapidary grade multi-color tourmalines in stock.
Some of our rarest quality multi-color tourmaline pegmatite mineral specimens have gem-grade areas inside the tourmalines and can be used as superior lapidary grade tourmaline gem rough!
Follow any of these Links to see more natural tourmaline items:

---
Would you like us to inform you when we add more natural bi-color and multi-color tourmaline pieces with lapidary grade areas for cabbing and faceting on this page?
We have over 150 tons of gem & mineral items in stock at our mineral warehouses, so be sure to let us know if you have any special requests. Please contact our webmaster or our 'site' geologist with any questions or comments.
Go up to the
top
of this page
---
Last Updated: March 12, 2020
© Copyright 1998-2020 Gem & Mineral Miners, Inc.® All Rights Reserved.