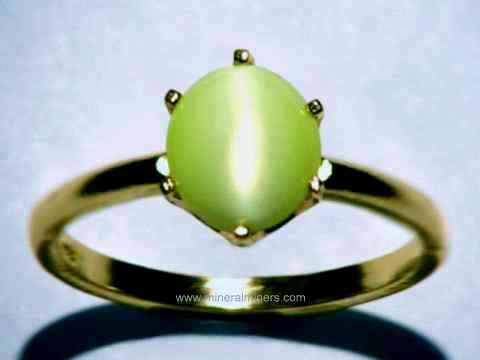 Chrysoberyl Cats Eye Jewelry: 14k Rings, Pendants and Bead Necklaces
Additional Chrysoberyl Cats Eye Items in our Virtual Gallery

---
The
mineralminers.com
®
Virtual Gallery - Collector Quality Chrysoberyl Cats Eye Jewelry
At
Miners'
Prices!
TM
Chrysoberyl Cats Eye Jewelry
Natural Chrysoberyl Cat's Eye Rings, Necklaces & Pendants in 14k Gold
Try our Genuine Chrysoberyl Cat's Eye Jewelry
Satisfaction Guarantee
- compare our prices and our superior quality.
Click on any natural chrysoberyl cats eye jewelry image below to enlarge it.
---
---
---
---
---
---
---
---
---
---
---
---
---
Item
: cymj136
Natural chrysoberyl cats eye necklace with gradational size beads
Hand-ground and polished from natural chrysoberyls mined in India

This beautiful and rare chysoberyl bead necklace was hand-crafted from completely natural chrysoberyls with greenish color. Many of these genuine chysoberyl beads show a well developed blue-white cats eye chatoyancy! These unheated and untreated chrysoberyls were ground and polished into disk shaped beads which were then drilled and strung into this natural chrysoberyl necklace with a sterling silver clasp. The photo at left shows a close-up view. See also a full view photo of this natural
chrysoberyl cats eye necklace
. We have one size available in this genuine chrysoberyl catseye necklace:
Item# cymj136a: this natural chrysoberyl catseye necklace is 17.5 inches long with 40 carats of genuine chrysoberyl beads that are gradational in size ranging from 3mm at the clasp up to 3.5mm at the largest diameter in the center of the necklace, and then back down to 3mm again.
Please see below to order these genuine chrysoberyl necklaces.

---
---
---
---
---
---

Our Chrysoberyl Cats Eye Jewelry is all 100% Natural Chrysoberyl!

See also our page displaying Natural Chrysoberyl Cats Eye Gemstones. See our page displaying alexandrite jewelry (natural alexandrite jewelry).

To see more chrysoberyl photos, just select another item category from the table below. To see photos of another mineral variety, select any item category link in our Mineral Inventory & Factsheet Index.



Would you like us to inform you when we add on this page more natural chrysoberyl cat's eye 14k gold rings and natural chrysoberyl cat's eye bead necklaces?
We have a limited inventory of natural chrysoberyl cat's eye jewelry items in stock, so be sure to let us know if you have any natural chrysoberyl cat's eye jewelry special requests. Please contact our webmaster or our 'site' geologist with any questions or comments.

Go up to the

top

of this page displaying 14k gold chrysoberyl cats eye rings, chrysoberyl cats eye pendants, and chrysoberyl cats eye necklaces
---
Last Updated: June 2, 2017
© Copyright 1998, 1999, 2000, 2001, 2002, 2003, 2004, 2005, 2006, 2007, 2008, 2009, 2010, 2011, 2012, 2013, 2014, 2015, 2016, 2017 Gem & Mineral Miners, Inc.® All Rights Reserved.