---
The
mineralminers.com
®
Virtual Gallery - Collector Quality
At
Miners'
Prices!
TM
Try our
satisfaction guarantee
- compare our prices and our quality.
Stands for Mineral Specimens, Crystals & Spheres
Select any stand image to enlarge it
---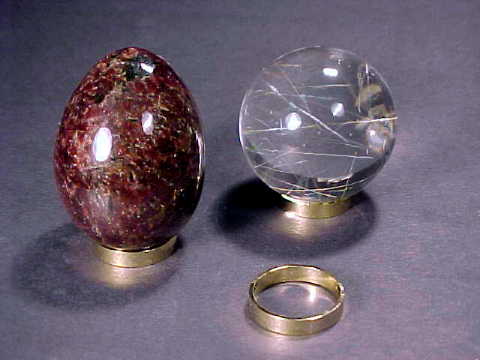 Code: rndl1-2
These shiny round sphere stands are made of 24k gold plated brass. They have a shiny golden surface and come in 4 sizes: 1" diameter, 1.25" diameter, 1.5" diameter and 2" diameter. See below for prices (spheres and eggs sold separately!).

---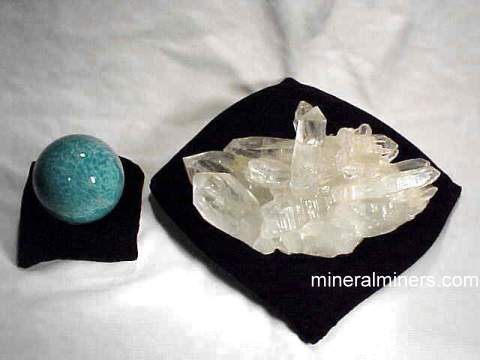 Code: blkp4-10
These handsome pillow stands are made in the U.S.A., with a black velvet fabric that contains "bean-bag" type material inside. They hold specimens very well in upright positions, and they also protect surfaces from being scratched by the sharp edges on some specimens. We have 4 sizes available, please see below to order (specimens not included!).

---

This is the end of our Stands for Minerals, Crystals & Spheres virtual gallery page.
To see photos of a mineral variety, select any item category link in our Mineral Inventory & Factsheet Index.



Would you like us to inform you when we add more stands for mineral specimens and spheres on this page?
We also have large decorator mineral specimens available with custom made stands. Be sure to let us know if you have any mineral stands special requests. Please contact our webmaster or our 'site' geologist with any questions or comments.

Go up to the

top

of this page
---
Last Updated: August 29, 2017
© Copyright 1998-2017 Gem & Mineral Miners, Inc.® All Rights Reserved.