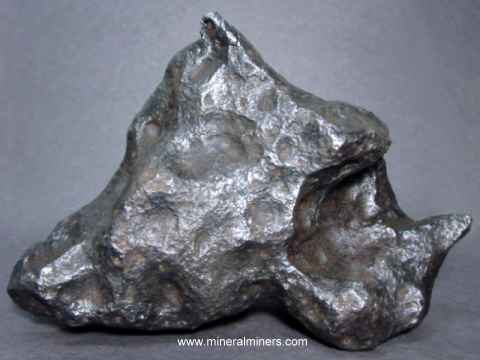 Natural Iron Nickel Meteorites: Muonionalusta Meteorites, Sikhote-Alin Meteorites, Nantan Meteorites, Campo Del Cielo Meteorites and Gibeon Meteorites!
Authentic
Meteorite
Products in our Online
Meteorites
Store
---
The
mineralminers.com
®
Virtual Gallery - Collector Quality Iron-Nickel Meteorites
At
Miners'
Prices!
TM
METEORITES
Try our Genuine
Meteorites
Satisfaction Guarantee
- compare our meteorite prices and our superior quality.
Select any natural iron-nickel meteorite image shown below to see a larger version of the image.
---
Our genuine iron nickel meteorites include: Sikhote-Alin Meteorites, Nantan Meteorites, Muonionalusta Meteorites, Gibeon Meteorites and Campo Del Cielo Meteorites.
Be sure to see our pages displaying genuine iron-nickel Meteorite Spheres which have etched surfaces to reveal their widmanstatten patterns, and our genuine Meteorite Jewelry with amazing meteorite rings, meteorite bracelets and meteorite necklaces!
Scientists believe that iron-nickel meteorites formed from molten planetary core material that cooled very slowly out in the void of space.
The transparent green natural color Moldavite is a natural silicate glass tektite. Moldavite and other tektites are thought to have formed from the extreme heat & pressure produced during a meteorite impact on the surface of the earth.
During some meteorite impacts, it is believed that both the surface of the earth and the meteorite itself melt together and are thrown or splashed into the air by the force of the meteorite impact's explosion, fusing into natural glass tektites which cooled quickly while flying up into the air and then falling back down to the earth.

See our page displaying genuine moldavite jewelry, with all natural moldavite jewelry designs including beautiful moldavite necklaces and a selection of genuine moldavite rings and amazing moldavite bracelets!
See our pages displaying genuine meteorite jewelry.
We have a large selection of authentic meteorite jewelry designs set with natural meteorites with their surfaces showing natural aerodynamic patterns, and we also have authentic meteorite jewery items set with etched meteorite slices showing their amazing Widmanstatten patterns!
Our meteorite jewelry items are all handcrafted and set in 925 sterling silver designs with many different styles and sizes available. Each of our meteorite jewelry items is unique!
Be sure to see our selection of genuine meteorite rings and meteorite bracelets, including some amazing extra large size meteorite jewelry items.
See also our genuine Tektites including the natural Indo-Chinite Tektites from the Australasian Strewn Field, our Genuine Moldavite, and the natural tektites known as Libyan desert glass tektites. Wind blown desert sands in the tall sief dunes of the Great Sand Sea in Egypt sculpt the Libyan desert glass tektites into interesting shapes with a semi-polished natural surface finish. Those who explore Eastern Egypt's uninhabited regions in search of these Lybian desert glass tektites risk much as the region is one of Earth's most inhospitable places, and finding a life supporting oasis of medjool date palms is a very rare occurance!
We also are offering genuine Tektite Jewelry available in rings, pendants and necklaces in 925 sterling silver settings.
To see images of additional meteorites and genuine meteorite products, just select any of our genuine meteorite images. We have a variety of shapes and sizes available in natural meteorites from several locations worldwide, and we also have genuine handcrafted meteorite spheres!
If you would like to view images of a different mineral variety, simply follow any link in our Mineral Inventory & Factsheet Index.


Natural Meteorites & other Genuine Meteorite Products in our Online Store

---
Meteorites
We specialize in collector quality meteorites and tektites, and we also offer a selection of superior quality genuine Meteorite Jewelry & Tektite Jewelry!
Just let us know if you would you like us to inform you when we add on this page more authentic Campo Del Cielo Meteorites, Gibeon Meteorites, Nantan Meteorites, Muonionalusta Meteorites & Sikhote-Alin Meteorites.
We do have more inventory of natural meteorites in stock at our mineral warehouses, so be sure to let us know if you have any meteorite requests. Please contact our webmaster, regarding iron nickel meteorites or our 'site' geologist with any questions or comments regarding our genuine meteorites.
---
Last Updated: Jan. 21st, 2023
© Copyright 1998-2023 Gem & Mineral Miners, Inc.® All Rights Reserved.